A ferret is a popular pet. These animals love to limb on things and can be fun to watch. In addition to having a cage for the ferret to live in a person this animal has to have toys and accessorized to play with. The cage is another important thing that is needed to care for it.
Cage Hammock
This hammock will allow the ferret to snuggle in and feel cozy. It is easily attached to the cage with just a couple of snap on clips. The pet can relax in the hammock or take a nice nap in it.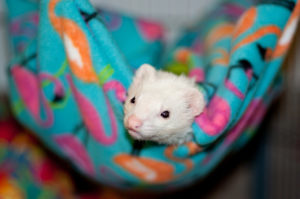 Ball Pit
This toy is both fun and interactive for the ferret. The ball pit contains plastic balls that are enclosed within a vinyl pit. The clever animal can play with the balls. When a ball is hit, they pop up making this toy even more fun for the pet. The ferret can even dig in the ball pit and try to make their way to the bottom through all of the balls. The globes are colorful to keep their attention and the pit has different holes that they can climb in and out of. This ball pit is made out of fabric and can be used both in and outside of the cage.
Ferret Sweatshirt
To keep the critter warm there are sweatshirts made especially for pet ferrets. This accessory is made out of cotton material and can be hand washed. They come in many different colors. The shirts even have a hood attached to them.
Turtle Tunnel
This toy can fit into the cage. The toy is a plush turtle with openings at all four of the legs and the mouth for the ferret to climb in and out of. The item is soft and will provide hours of entertainment.
These are just some of the accessories available for pet ferrets. They will keep the pet entertained and happy for a long time.